Forget tales of Gen Y slackers; hard work, dogged determination and self-belief are themes that run deep through the stories of the young entrepreneurs interviewed for Your Business this week. Today, George Smith, from Glassjar.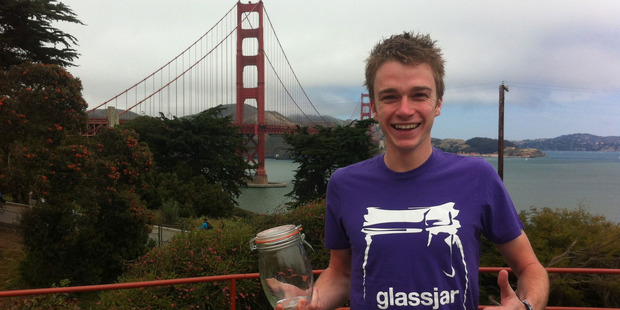 Can you tell me a bit about Glassjar?
Glassjar is a mobile app that allows roommates to automatically pay their bills and rent in a single payment each month. We're focused on people living in student and young professional apartments in the US, New Zealand and Australia, and at the moment there are four of us in the team: myself as CEO, my co-founder Matt as CTO, our design lead Seb Petravic and our web developer Jack Ewing.
What's your background as an entrepreneur?
I've always loved the startup environment and Glassjar is the third company I've co-founded.
The first was called Beanlab, which created bespoke coffee blends. Our customers would be asked about the way they drink and enjoy coffee and from that we'd blend coffee beans specific to their palate. We'd then customise the packing and ship it to them. We were the Auckland champs and a national finalist of the Young Enterprise Scheme and worked on the concept for about a year before dissolving the company to focus on university.
The second, started at Canterbury University, was called Gradvids and created customised graduation videos that were then distributed through Facebook. Instead of sending people a full DVD of the ceremony we'd put together the film of them crossing the stage coupled with a short intro/outro and distribute through Facebook so all their friends and family could see it. Unfortunately the Canterbury earthquakes struck right as we began building momentum with the business and we made the decision to pull out as there was just too much going on around us that we couldn't ignore.
Do you have any entrepreneurial role models or mentors?
Yes, I'm really lucky in that I've got an amazing mentor network. Two awesome people, for example, are Dan Khan from the Lightning Lab and Rachel Wright from UC Innovators – both of whom have been so invaluable as mentors for me. I also love watching Rod Drury of Xero, Vaughan Rowsell of Vend, Guy Horrocks of Carnival Labs and Andy Wilkinson of Twingl. I think they're great examples for New Zealand entrepreneurs.
What's been the biggest challenge for you on your entrepreneurial journey so far?
Establishing the team and getting the right culture requires a bit of work but once it's there it's awesome and the journey becomes much, much easier.
Our team includes co-founders and I was really lucky to find Matt last year. It also includes our first employees and again I was hugely lucky that we found Jack and Seb and that they came onboard with the passion of founders – they're amazing. But we've also built an amazing team of mentors and advisors, and recently an incredible team of investors as well. To build a team you just have to sell the vision, your passion and your belief that this will become massive, which it will with Glassjar.
The startup scene is really supportive; if you're passionate and motivated people will share that and help you.
What do you love about being an entrepreneur and going on this journey with Glassjar?
Everything – the excitement, pace and teamwork are just awesome. I think you could guess from that, one of the best things is achieving milestones and sharing the success with your team. That's really rewarding and hugely motivating. And then, I love planning the next move. Growth is awesome; the company can always go further and planning that is a fun exercise.
What's next for the company and what's your ultimate vision for what you'd like to see it become?
We're 100 per cent focused on growth. Matt's leading the development of an awesome product and we're incredibly excited to get as many apartments using it as we can. The feedback we've had to date has been very promising and we've got a lot of support behind us.
The mobile payments space is incredibly dynamic and exciting at the moment; we reckon we've timed our run perfectly and our goal is to become the leading group payments solution.
This story originally appeared in the NZ Herald.